GuideOne Insurance Receives Celent 2016 Model Insurer Award
Company Recognized for its Exemplary Work in Legacy Transformation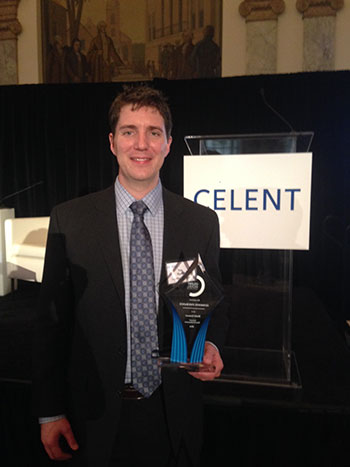 WEST DES MOINES, Iowa – (April 14, 2016) – GuideOne Insurance today announced that it was recognized as a 2016 Model Insurer by Celent, a global research and advisory firm for the financial services industry. This award was given to GuideOne for its exemplary work in legacy transformation during the Celent Insight and Innovation Day on April 13 in New York City.
The award recognizes GuideOne's comprehensive transformation of the products and technology that make up the company's personal lines business. This project involved launching a new policy administration system, as well as new standard auto, non-standard auto, home, renters and umbrella products through its LifeStages program. In addition, GuideOne was able to launch an affinity program to help develop and support relationships with members of nonprofit and faith-based organizations. The program and new system are currently live in five states, with plans to expand in additional states later this year. The success of this transformation is especially significant considering GuideOne simultaneously launched a new enterprise claims system and is in the process of launching a commercial lines policy administration system as well.
To expand on the success, previously, GuideOne underwriters reviewed 100 percent of auto and home policies before binding, but through the use of the new policy administration system, GuideOne now delivers real-time automated underwriting, with approximately 80 percent straight-through processing of new business. Additionally, the company has experienced a surge in new business, reflecting the effect of the new system and products.
Celent's annual Model Insurer Awards recognize the best practices of technology usage in different areas critical to success in insurance. Nominations are submitted by financial institutions and technology vendors, and undergo a rigorous evaluation process by Celent analysts. Celent judges submissions on three core criteria: Initiatives must be live and delivering demonstrable business benefits; the degree of innovation relative to the industry; and the quality of the technology or implementation excellence.
About GuideOne
Founded in 1947 and headquartered in West Des Moines, Iowa, GuideOne Insurance is one of the nation's largest church insurers, with more than 46,000 church policyholders. GuideOne also insures private schools and higher education institutions, nonprofit organizations, as well as senior living communities. In 1999, the company created the GuideOne Center for Risk Management® in order to help churches and faith-based organizations safeguard their ministries. This effort was expanded in 2008 with the launch of SafeChurch®, the most comprehensive church risk management online resource available. GuideOne is licensed to do business in all 50 states and markets its products and services through nearly 3,000 independent and career agents. The company carries an A "Excellent" rating from A.M. Best.  For more information, visit GuideOne.com.