GuideOne Insurance's Jim Wallace Honored by Drake University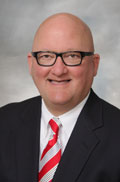 DES MOINES, Iowa – (May 1, 2015) – Jim Wallace, GuideOne Insurance Chairman, President and CEO, was honored by Drake University April 30, with the Stuart Klugman Distinguished Alumni Award. Each year, the Actuarial Science Advisory Board selects alumni who have distinguished themselves in the actuarial field. Wallace was recognized for his impact and dedication to the actuarial science program at his alma mater.
The award was named in honor of Klugman, a former Principal Financial Group distinguished professor who was instrumental in developing Drake's actuarial science program during his career at the university from 1988 to 2009. The Stuart Klugman Award was inaugurated in 2010 and is presented to an individual each year.
Wallace serves as chairman, president, and CEO of GuideOne Insurance, a national property/casualty niche insurer, and one of the nation's largest church writers. The company has been a generous supporter of Drake University and the Actuarial Science department. In 2012, Wallace was awarded the Drake University College of Business & Public Administration (CBPA) Community Leadership Award, and currently serves on CBPA's national advisory council.
Wallace is active in numerous industry and community groups, including the Greater Des Moines Partnership Board of Directors and Executive Committee, Property Casualty Insurers Association of America Board of Governors, YMCA Board of Directors, Des Moines Art Center Board of Directors, Des Moines Diocese Financial Council, St. Augustin Church Finance Council and CEO Breakfast Club. He is past chair of the board of directors for the Greater Des Moines Partnership. "Not only does Jim Wallace have a strong leadership role in the companies that he has worked for, but he also has had a strong leadership presence in the industry and community," said Jim Noyce, retired CEO of FBL Financial Group, who presented the award on behalf of the actuarial science program's advisory board.
Drake University is recognized as having one of the nation's best actuarial science programs, and is one of the few private university actuarial science programs in the Midwest with a full set of actuarial science courses taught by actuaries. Drake is one of 16 universities in the United States to be recognized as a Center for Actuarial Excellence by the Society of Actuaries.
About GuideOne
Founded in 1947 and headquartered in West Des Moines, Iowa, GuideOne Insurance is one of the nation's largest church insurers, with more than 46,000 church policyholders. GuideOne also insures private schools and higher education institutions, nonprofit organizations, as well as senior living communities. In 1999, the company created the GuideOne Center for Risk Management® in order to help churches and faith-based organizations safeguard their ministries. This effort was expanded in 2008 with the launch of SafeChurch®, the most comprehensive church risk management online resource available. GuideOne is licensed to do business in all 50 states and markets its products and services through nearly 3,000 independent and career agents. The company carries an A "Excellent" rating from A.M. Best. For more information, visit GuideOne.com.