PCI Elects Jim Wallace as Chair of its Board of Governors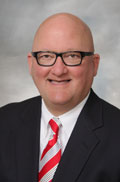 West Des Moines, Iowa – (Oct. 27, 2015) –The Property Casualty Insurers Association of America (PCI) elected new officers to its Board of Governors today during the association's annual meeting in Hollywood, Florida. Jim Wallace, chairman, president and CEO of GuideOne Insurance in West Des Moines, was elected as PCI's chair. Prior to becoming chair, Wallace served as first and second vice chair of PCI in 2014 and 2015. During his term, Wallace, and the other PCI Board of Governors officers, will work to continue addressing and embracing disruptions in the insurance industry, such as the sharing economy, global regulatory convergence and technological innovations.
About Jim Wallace
Jim Wallace is chairman, president, and CEO of GuideOne Insurance. Wallace joined the company in 2001. Previously, he was the president and CEO of National Travelers Life Company and, prior to that, partner in charge of insurance services for the eastern half of the U.S. for Ernst & Young. Wallace is past chair of the Greater Des Moines Partnership. He currently serves on numerous industry and community boards, including the Des Moines Art Center, the Greater Des Moines Committee, the Catholic Foundation of the Iowa Diocese, and the Drake University Board of Trustees. Wallace is a graduate of Drake University.
About PCI
PCI is composed of nearly 1,000 member companies, representing the broadest cross section of insurers of any national trade association. PCI members write more than $183 billion in annual premium, 35 percent of the nation's property casualty insurance. Member companies write 42 percent of the U.S. automobile insurance market, 27 percent of the homeowners market, 32 percent of the commercial property and liability market and 34 percent of the private workers compensation market.
About GuideOne
Founded in 1947 and headquartered in West Des Moines, Iowa, GuideOne Insurance is one of the nation's largest church insurers, with more than 46,000 church policyholders. GuideOne also insures private schools and higher education institutions, nonprofit organizations, as well as senior living communities. In 1999, the company created the GuideOne Center for Risk Management® in order to help churches and faith-based organizations safeguard their ministries. This effort was expanded in 2008 with the launch of SafeChurch®, the most comprehensive church risk management online resource available. GuideOne is licensed to do business in all 50 states and markets its products and services through nearly 3,000 independent and career agents. The company carries an A "Excellent" rating from A.M. Best. For more information, visit GuideOne.com.