Commercial Kitchen Fire Safety: Kitchen Equipment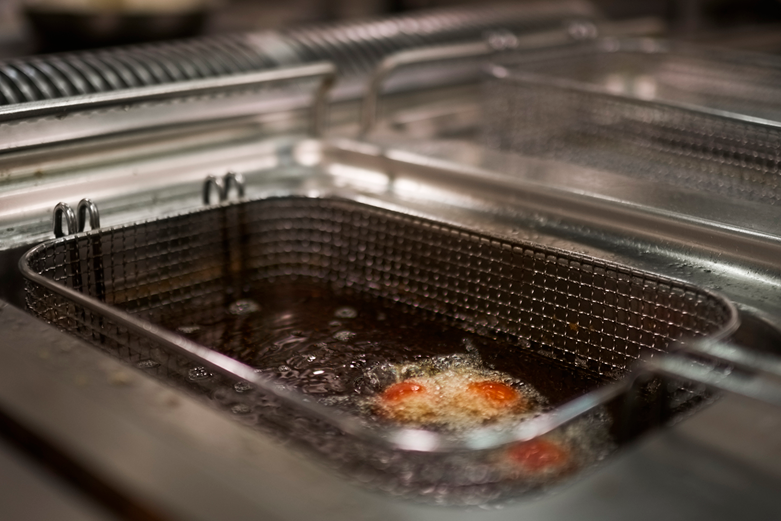 Grease is one of the most common causes of kitchen fires. However, with the proper equipment precautions, you can prevent such an incident. Whether your organization uses a commercial kitchen every day or just on special occasions, we want to help your staff and your kitchen stay safe from fire so you can keep serving those in your community.
The following equipment safety tips can help minimize the risk of a grease fire in your commercial kitchen:
Deep Fat Fryers
Deep fat fryers are a major cause of kitchen fires. Oil can splash and easily come into contact with an open flame from an adjacent piece of cooking equipment, such as a gas-fired range top.
A 16-inch clearance must be maintained between the deep fat fryer and the open flame cooking equipment. If a 16-inch clearance is not possible, a vertical steel barrier extending 12 inches above the top of the deep fat fryer or open flame appliance(s) can be used as an alternative means of protection.
The normal temperature range for food service frying is 325-375 degrees Fahrenheit. As the oil temperature increases, so does the risk of an accidental grease fire. All deep fat fryers should be equipped with a high temperature limiting device, which will shut off the fuel or energy in the event the cooking oil exceeds a temperature of 475 degrees Fahrenheit.
This photo illustrates the correct installation of a metal baffle plate between the open flames from the range and the deep fat fryer. Metal baffles should be used only when there is not sufficient space available to provide a 16-inch clearance between the deep fat fryer and any source of open flames.
Flat Grills & Griddles
Flat grills and griddles are typically used for frying burgers and bacon. When used for this type of cooking, grease and grease laden vapors will be produced.
To adequately control the fire hazard associated with these types of cooking operations, two fire protection components must be installed:
a hood and ventilation system

an automatic extinguishing system
© 2021 The GuideOne Center for Risk Management, LLC. All rights reserved. This material is for informational purposes only. It is not intended to give specific legal or risk management advice, nor are any suggested checklists or action plans intended to include or address all possible risk management exposures or solutions. You are encouraged to retain your own expert consultants and legal advisors in order to develop a risk management plan specific to your own activities.