Food for Thought: How to Avoid Choking Risks
Children under the age of 5 have airways that are about the size of their pinky finger, making choking a leading cause of injury and death among young children, according to the American Academy of Pediatrics.
If you serve meals and/or snacks to children during your programs and activities, it's important to watch for choking hazards in addition to preparing food to the right temperature and checking for potential food allergies.
Stay Alert
When serving any kind of food, uphold rules for children to remain seated, in an upright position. Children who are walking, running or lying down while eating have a substantially higher risk of choking. Be sure to monitor the food being served to children. If you are questioning if the food should be cut into smaller pieces, err on the side of caution and do it.
One of the best ways to prevent choking is to be mindful of what you're serving. We've compiled a group of common foods that present a choking hazard and how you can safely serve them. For reference, feel free to print and hang this poster in your organization's designated kitchens and eating areas so anyone involved with meal prep can be aware of these tips.
Be Prepared
Unfortunately, accidents can still happen even when all precautions are taken. For this reason, it's essential to have a CPR-certified staff member or volunteer monitoring children. These individuals are trained not only in CPR and first aid, but the life-saving Heimlich Maneuver as well. To learn more about training and certifications, check out the American Heart Association website.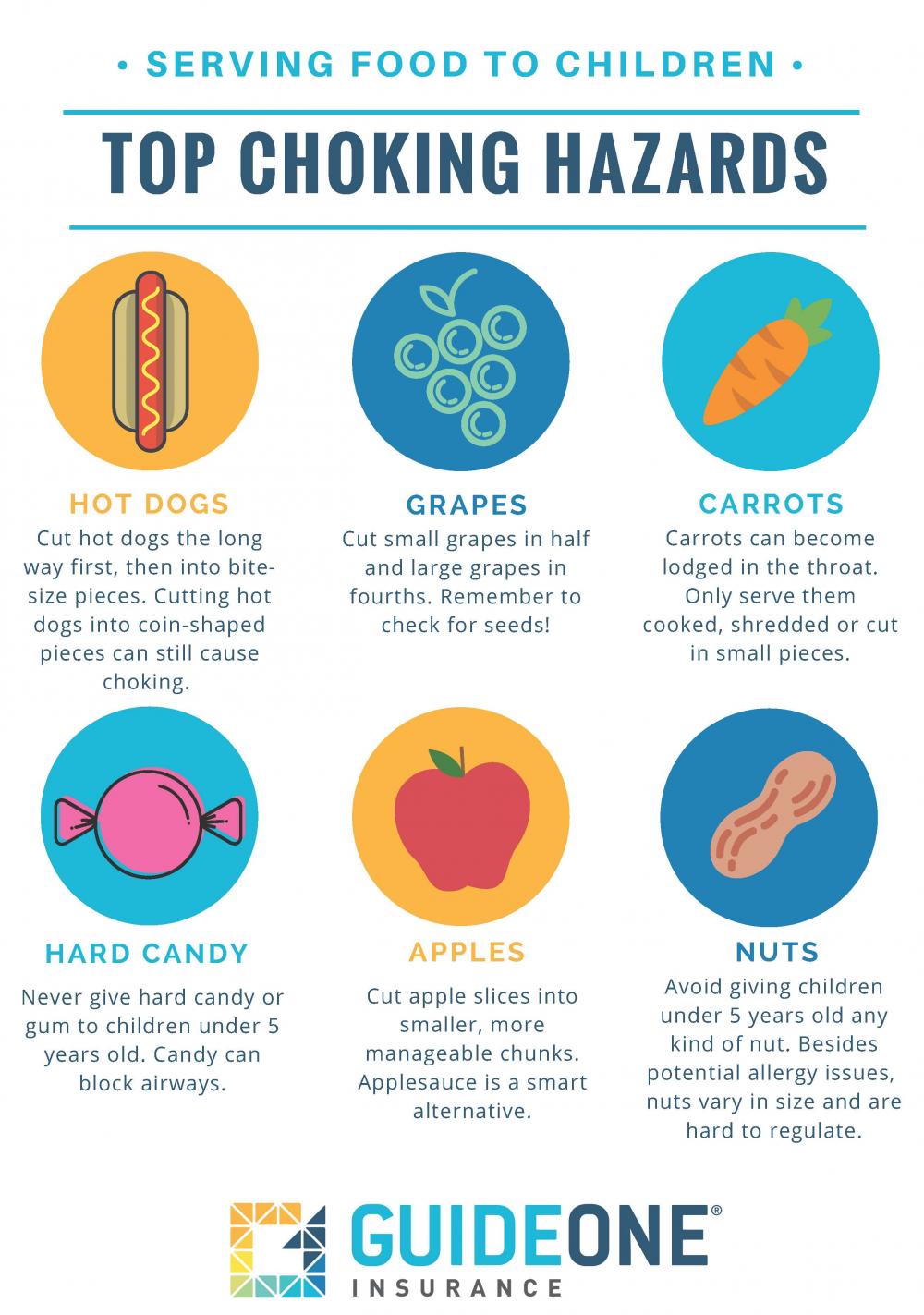 © 2020 The GuideOne Center for Risk Management, LLC. All rights reserved. This material is for informational purposes only. It is not intended to give specific legal or risk management advice, nor are any suggested checklists or action plans intended to include or address all possible risk management exposures or solutions. You are encouraged to retain your own expert consultants and legal advisors in order to develop a risk management plan specific to your own activities.