How to Help Prevent and Handle Wildfires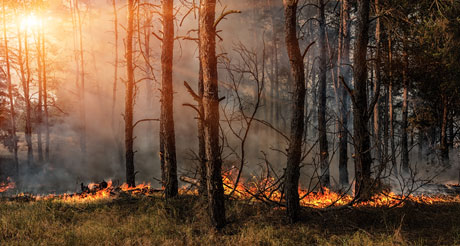 The risk of wildfires increases when facilities are located closer to natural fuels and farther from fire suppression resources. Owning property in a wildland zone — a camp in the forest or an organization based at the end of the wildland urban interface, for instance — requires more self-reliance than owning property in an urban area. Planning and taking actions to reduce fire hazards can increase safety and help protect your property.
DEFENSIBLE SPACE
It is important to create fuel breaks and defensible space around the property — these are open areas with limited combustible materials. Defensible space buys fire suppression teams time to work to keep flames away from your structure.
Begin closest to the building(s) and work outward.
Limit vegetation (grass, plants and trees) up to 200 feet from the building and remove dead plant materials.
Remove lower branches from trees to create six to 10 feet of clearance from the ground. Also remove smaller conifers growing between taller trees.
Remember: Keeping buildings safe is not a one-time effort – it requires ongoing maintenance.
BUILDING CONSTRUCTION AND MAINTENANCE
Roof materials: Buildings located in high fire hazard areas should have fire-resistant roofs constructed of asphalt, metal or tile. Wood shake roofs are particularly dangerous and should never be used in a high fire hazard area.
Debris removal: Keep gutters and roofs clear of leaves, pine needles and other combustible debris. Fit eave soffits and attic vents with narrow mesh screens to keep embers from entering the attic and soffits.
Combustible materials: Be mindful where you site or store these potential fire hazards.
Store firewood and other combustible materials at least 30 feet from the building or cover them with a fireproof cover.
Do not store combustible materials under decks.
Locate playground equipment, sheds and other combustible structures at least 30 feet from any building.
Keep fuel tanks, including propane, at least 30 feet from buildings. Maintain a minimum clearance of at least 10 feet free from any combustible material.
Fuel tanks, including propane, should be at least 30 feet from buildings and have a minimum clearance of at least 10 feet free of any combustible material.
ACCESS ESSENTIALS
Your facility should have clear accessways. This means ideally more than one all-weather access road or driveway that is wide enough (typically up to 30 feet) to allow fire suppression equipment to maneuver on your property. It is not uncommon for falling debris or fire equipment to block one way of egress. Be sure to keep an alternate exit clear for evacuation if necessary.
© 2019 The GuideOne Center for Risk Management, LLC. All rights reserved.This material is for informational purposes only. It is not intended to give specific legal or risk management advice, nor are any suggested checklists or action plans intended to include or address all possible risk management exposures or solutions. You are encouraged to retain your own expert consultants and legal advisors in order to develop a risk management plan specific to your own activities.