5 Tips for Safer Cookouts
According to the National Fire Protection Association (NFPA), 16,000 people on average are sent to the emergency room each year from grill-related injuries. July is the most common month for grill-related fires and also a popular time for organizations to host group cookouts. If you're planning to fire up the grill at upcoming events, here are five tips to help you safely serve up tasty food – and fun.
1. Look for Level Ground
Scope out a good spot for grilling during the planning stages of your events. Find a flat surface that is out of the way of activity and play areas to prevent the grill from tipping over and/or injuring guests. Also avoid areas with low-hanging branches, dry grass or combustible materials. Grills should never be operated on wood decks or closer than 10 feet from any building.
2. Handle Propane Carefully
Before grilling, check the grill for leaks. If you are unsure about how to do this, this resource from NFPA can help you. Never use an old propane tank or one that is low on fuel. Always turn the propane cylinder valve to the closed position when done grilling. As a reminder, propane tanks should never be kept indoors.
3. Have an Emergency Plan
Never leave a grill unattended when fuel is burning or the fire is going. Always have a working fire extinguisher available when grilling. Do not use water to put out grill fires. If the smell of propane gas is detected at any point, immediately turn off the gas and the burners. Move far away from the grill and call the fire department.
4. Properly Prepare and Store Food
Smart food handling measures include avoiding cross-contamination, making sure cold items stay cold and cooking food thoroughly. Here are safe-to-eat meat temperatures:
Whole poultry

165 degrees Fahrenheit

Poultry breasts

165 degrees Fahrenheit

Ground poultry

165 degrees Fahrenheit

Ground meats

160 degrees Fahrenheit

Beef, pork, lamb and veal
(steaks, roasts, chops)

145 degrees Fahrenheit
(allow to rest at least three minutes)
Our food preparation article includes more information on food safety.
5. Clean Up When You're Done
Cleaning up after a cookout isn't just a courtesy – it also prolongs the life of the grill. Before cleaning, double check that the grill is off and that you have the right tools for the job. The Centers for Disease Control and Prevention warns about the use of wire grill brushes. The wires from these brushes can easily stick to the grates of the grill, ultimately ending up in food and potentially causing fatal injuries. Instead, use a damp cloth, aluminum foil, and soft- or nylon-bristled brushes.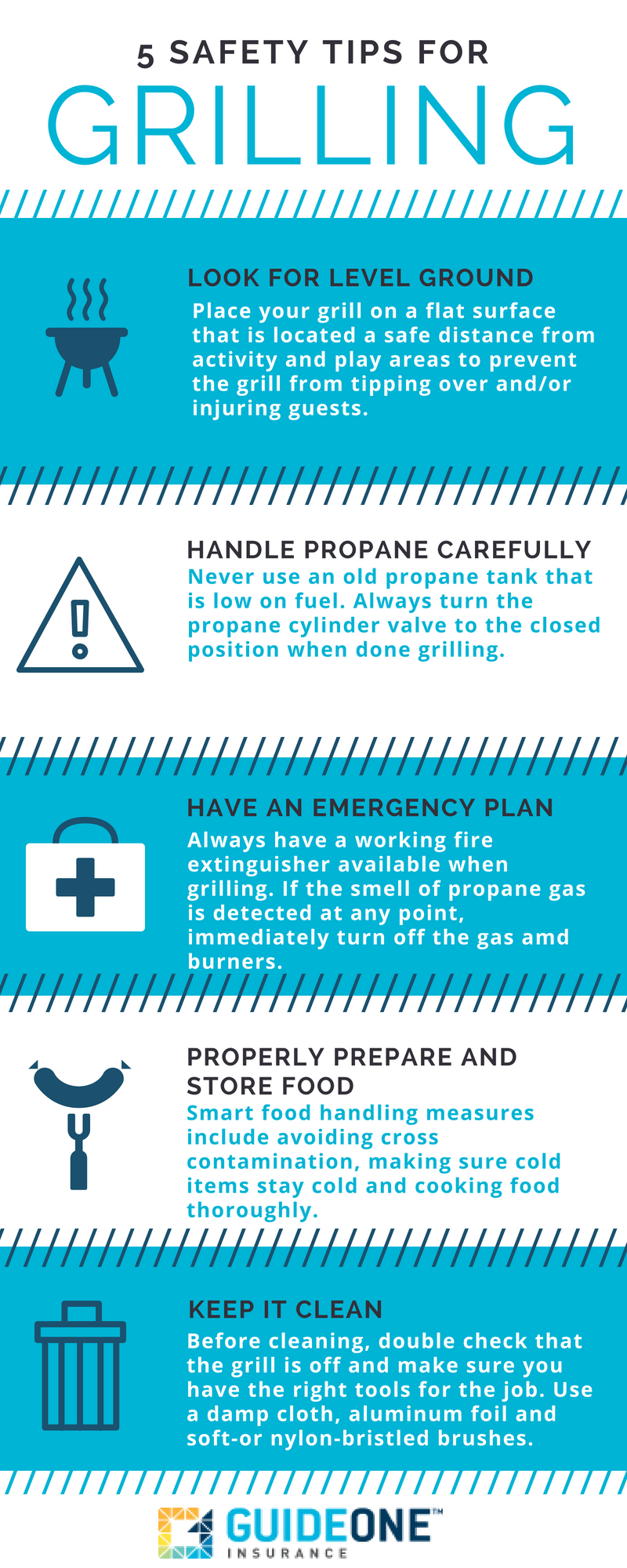 © 2020 The GuideOne Center for Risk Management, LLC. All rights reserved. This material is for informational purposes only. It is not intended to give specific legal or risk management advice, nor are any suggested checklists or action plans intended to include or address all possible risk management exposures or solutions. You are encouraged to retain your own expert consultants and legal advisors in order to develop a risk management plan specific to your own activities.