Let's Talk about Mental Health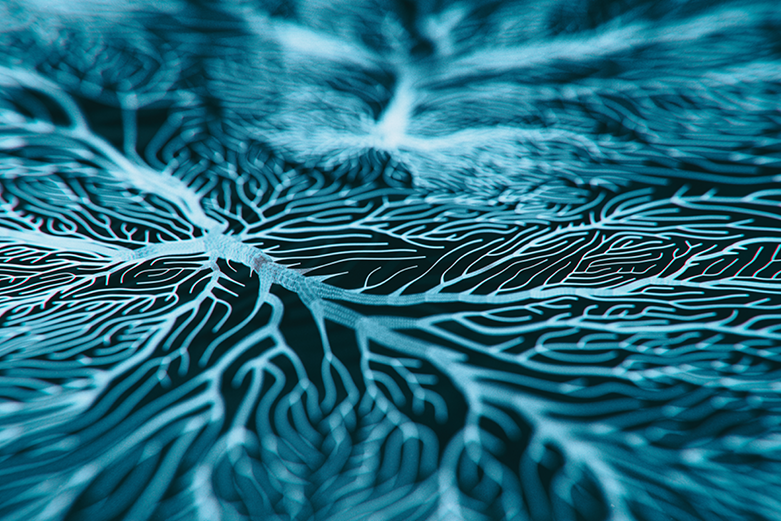 Mental health's growing presence in the world makes it more than a hashtag, something you read about in the news or see on television. Every year, 1 in 5 adults — or approximately 42.5 million Americans — struggle with mental illness, according to the National Alliance on Mental Illness. Someone in your organization may be struggling, but there are things you can do to help support them.
Healthy Workplace, Better Well-Being
The average American spends 43 hours per week at work, according to the Bureau of Labor Statistics. A healthy and positive work environment can make a difference by providing a safe place for individuals to grow, increasing efficiency and attendance, and saving money from medical expenses and lost productivity. To put it into perspective, the World Health Organization (WHO) estimates that anxiety and depression cost the global economy $1 trillion per year in lost productivity. Promoting mental wellness in the workplace could be one of the most important steps you take in your organization.
Risk Factors
While any organization may have individuals who suffer from mental illness, the WHO identified common factors that contribute to the risk of worsening employee mental health. If any of the following factors apply to your organization, it's essential to consider the adverse effects and develop solutions.
Inadequate health and safety policies.
Poor communication and management practices.
Limited participation in decision-making or low control over one's area of work.
Low levels of support for employees.
Inflexible working hours.
Unclear tasks or organizational objectives.
How to Improve Workplace Culture
All businesses should implement activities aimed at reducing the stigma and dangers of mental health disorders. The following are a few strategies that can help build a better workplace culture:
Education.
Growth and recognition programs.
Employee participation.
Flexible hours and the ability to work from home. This allows employees to continue to work in an environment that is safe and comfortable to them when needed.
Clear communication and employee expectations.
Time for breaks. Walking, grabbing coffee or even going outside can help break up the day and allow employees to step away from stressors to regroup.
Team bonding activities, such as recreational leagues, biking groups, off-site games and/or group lunches.
Warning Signs of a Mental Health Episode
Mental illness doesn't have an off button, and episodes can occur anytime — even with prevention methods in place. The symptoms of mental health episodes come in many forms. However, it is important to realize that a person's behavior usually reflects what is happening in his/her mind. Common symptoms to look for include:
Changes in emotion and behavior.
Extreme mood swings or outbursts.
Changes in concentration or motivation (can be a decrease or increase).
Changes in eating habits (can be a decrease or increase).
Social isolation.
Calling in sick or not coming in to work.
Lack of personal hygiene.
Remember, you are not a doctor or psychiatrist, and it is neither your place — nor your fellow employees' place — to diagnose a co-worker.
 
How to Respond
Having a mental health emergency is physically and emotionally painful. As an employer, it's important for you to treat mental health the same as if a person gets sick at work. Even though a person is struggling or sick in that moment, it doesn't mean he or she is incapable of being an excellent employee. In a crisis situation, remember to stay calm and non-judgmental. Most of the time, a person is not looking for advice; they are looking for someone to listen. In addition to listening, you can:
Ask helpful questions: "What do you need?" "What can I do to help?"
Remind him/her to take deep breaths.
Avoid giving advice or saying what is right or wrong. This can send a person into a deeper crisis.
Be understanding in the days that follow. It may take several days for a person to recover from an episode, even if he/she looks healthy physically.
Check in. Give the person an opportunity to open up to you. In a private place, ask how he/she is feeling. This encourages a pressure-free conversation, and the individual will open up if he/she chooses.
Share available resources.
Resources
There are many resources available to learn more about reducing the risk of and responding to mental health crises. By familiarizing yourself and your organization with this information, you can make a difference in your workplace.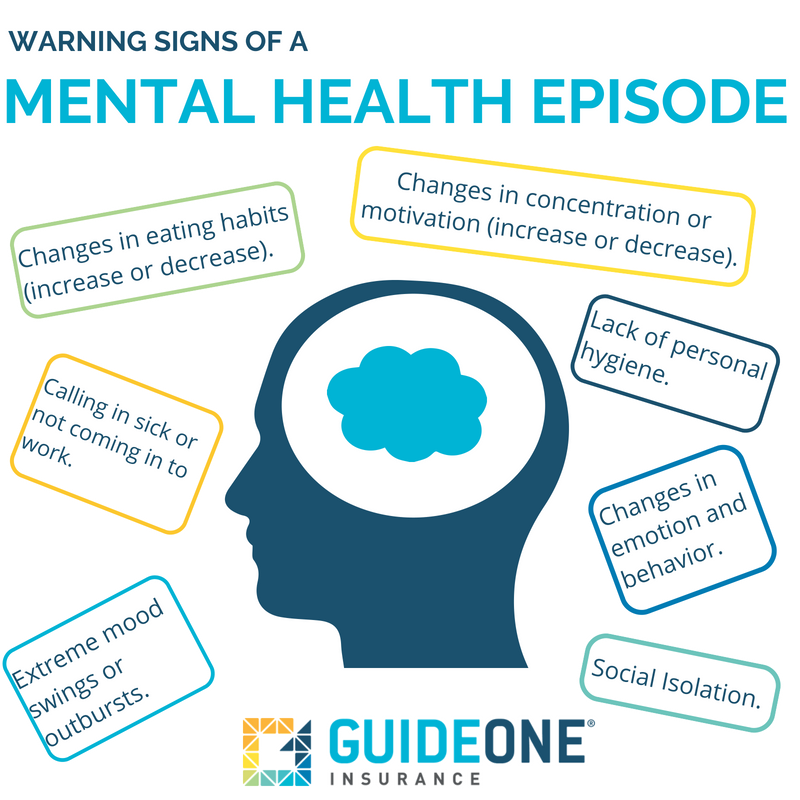 © 2022 The GuideOne Center for Risk Management, LLC. All rights reserved. This material is for informational purposes only. It is not intended to give specific legal or risk management advice, nor are any suggested checklists or action plans intended to include or address all possible risk management exposures or solutions. You are encouraged to retain your own expert consultants and legal advisors in order to develop a risk management plan specific to your own activities.